UPSC has postponed the Civil Services Preliminary Examination to be held on June 27, Now this examination will be held on October 10, 2021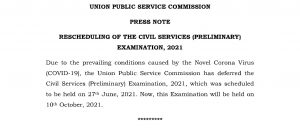 The Union Public Service Commission New Delhi has rescheduled the Pre Exam for Civil Services IAS Exam 2021, earlier this exam was scheduled to be held on 27 June 2021 but due to the growing case of corona epidemic in India and lockdown in many states, the exam at this time It was not possible to do.
For this reason, the UPSC has changed the exam date and now this exam is proposed to be held on the 10th of the month of October, it is expected that by October, the outbreak of Corona's second larvae in India will be reduced to a great extent and The exam will now be held on time.
Also tell you some other information, whoever has registered in this examination, they will be able to participate in the examination to be held in October. Many candidates are wondering if the new registration window will open again? Let me tell you that the expectation of this is quite low. Now any new candidates who have not registered can now participate in the examination to be held in 2022 next year. For more information, you keep visiting the official website UPSC.Gov.in continuously.
Download Notice Link :