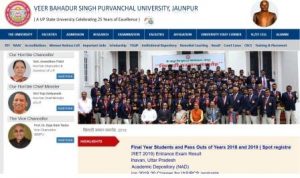 Name of Post:  Veer Bahadur Singh Purvanchal University VBSPU Jaunpur Jobs Fair Online Form 2020.

Post Date:  07 February 2020

Short Information: VBSPU Jobs Fair Rojgar Mela 2020 Online Form

Important Dates :
Jobs Fair Form Start : 07 February 2020
Date of Jobs Fair Rojgar Mela : 11 February 2020
Application Fees for Jaunpur University Rojgar Fair
General / Other State : Rs. 0/-
BC / EBC / EWS : Rs. 0/-
SC/ ST Applicant : Rs. 0/-
Female Applicant : Rs. 0/-
Payment Mode
No Application Fees for the Jaunpur University Jobs Fair Rojgar Mela.
Eligibilty for Jobs Fair in VBSPU Jaunpur
Applicant Must Have A Enrolled in Any Courses at VBSPU Jaunpur University.
Rojgar Fair Conducted By
VBS Purvanchal University & Avsar Ventures, Jaipur
About Rojgar Mela at VBSPU Jaunpur
Total : 22 Compainies Are Participating in VBSPU Jaunpur Rojgar Mela 2020
Place for Venue : VBS Purvanchal University Purvanchal University Campus, JAUNPUR.
Date : February 11 & 12 (Tuesday and Wednesday), 2020.
Reporting Time : 10:00 A.M. Inauguration by Vice Chancellor at 10:30  A.M. on 11th February.
IMPORTANT LINKS
APPLY ONLINE
Download Notification
official website
FIND MORE DELHI GOVT. JOBS